Having Fun in the studio.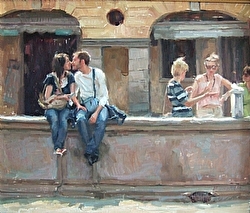 Well, it's been a while since I posted on my blog, so I thought I might just do that. Hope everybody is doing well and enjoyed the summer months. I can say that my summer was extremely busy . I've been working on several commissioned painting and series of new paintings for the galleries. Did some traveling and managed to find some more wonderful art books. I guess there is always a new book to be found :)

It has been so much fun finding so many artist friends on facebook. Several years ago I opened a facebook account just to keep in touch with my brother Ramiro who was serving in Iraq. Never did I imagine that months later I would find so many old and new friends. It has been particularly nice to be able to keep in touch with other artists as we each work in our studios day by day. All of a sudden it seems like you are not so isolated in the studio and you have ahuge group of virtual friends to keep in touch with. I love my time in the studio! I wake up every morning excited about what I will be working on that day. I have also been trying to limit my online time in the mornings, because I find it easily takes away much more time than I set out to from the easel. So I am trying to work on keeping my computer time for the evenings.
I continue to mentor a small group of artists at the Coppini Academy of Fine Arts. It is so refreshing to get together with them and paint. They are all so committed and dedicated to their Art that it makes my day a joy.
I am also happy to announce that I am now represented by "Greenberg Fine Art" in beautiful Santa Fe. This is a new gallery located at 205 Canyon Road and I am very excited about the move. Mark Greenberg , the owner, has years of experience in the business, so I know he will do very well.

Have a beautiful day everybody!

.